DurableCASE is een samenwerking om oplossingen te ontwikkelen voor samenwerkende robotvoertuigen in de agrosector. DurableCASE staat voor Durable Cooperative Agrobotics Systems Engineering: duurzame oplossingen voor samenwerkende robots in de agrarische sector. HAN Automotive Research is trekker van het project
DURABLE COOPERATIVE AGROBOTICS SYSTEMS ENGINEERING
De inzet van robots als vervanging voor arbeid in deze sector wordt steeds meer een noodzaak bij gebrek aan arbeidskrachten. Het perspectief biedt veel mogelijkheden, bijvoorbeeld op het gebied van duurzaamheid. Meerdere compacte robots kunnen de taken van één grote machine overnemen. Dat scheelt bodemverdichting. Het zorgt ook voor grotere bedrijfszekerheid: als een robot uitvalt, kunnen andere robots taken overnemen. De robots moeten dan wel goed samenwerken. 
In DurableCASE worden oplossingen ontwikkeld voor communicatie tussen samenwerkende robots. Het doel: robuuste coöperativiteit, waarbij robuust staat voor safe, secure & performant. Ofwel veilig, beveiligd en met optimale prestaties, onder alle omstandigheden. Voor robotica is er veel beschikbaar in het rijke ecosysteem van ROS (Robot Operating System). DurableCASE maakt daar dankbaar gebruik van.
Voorafgaand aan het project schetsten de partners de volgende referentie-architectuur voor besturing van een samenwerkende robot.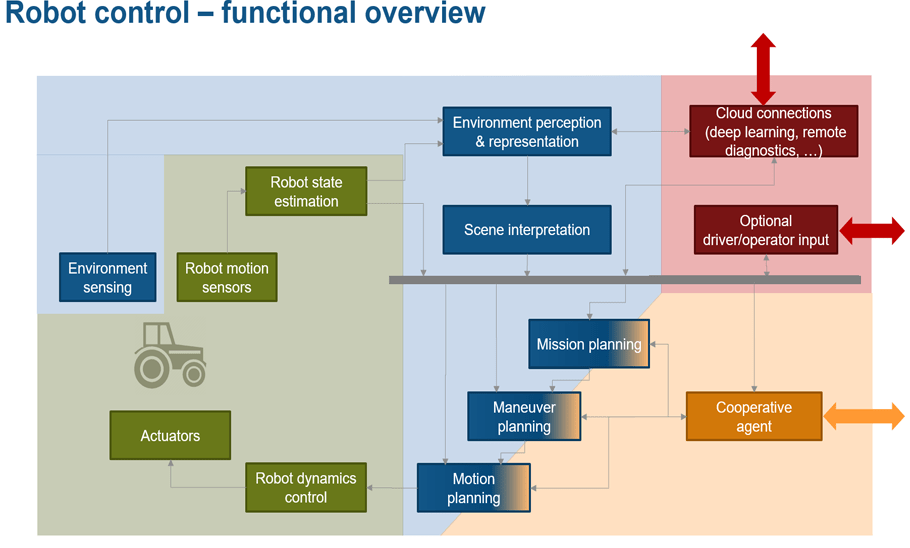 Het groene deel vormt de traditionele machinebesturing. Het blauwe deel schetst functies voor de automatisering van de machine, met sensoren voor perceptie van de omgeving en planning van missie, manoeuvres en machinebeweging. Via het rode deel krijgt de machine updates via de cloud en kan deze op afstand worden gemonitord of bediend. DurableCASE richt zich op het gele deel. DurableCASE voorziet één of meerdere software-agenten die kunnen worden toegevoegd aan de machinebesturing. De 'cooperative agents' van samenwerkende machines communiceren met elkaar en zorgen voor het samenwerkende gedrag. Het onderzoek richt zich daarbij vooral op robuustheid van die samenwerking. DurableCASE koppelt de kracht van agro en automotive wereld. De kracht van de automotive sector ligt bijvoorbeeld in de volwassen geworden ontwikkelmethodiek. De agrosector vertoont een hoge innovatiesnelheid door soepeler wetgeving: bij lage snelheden is autonomie toegestaan op het eigen terrein. Die sector is daarom uitgekozen voor de uitvoering van DurableCASE.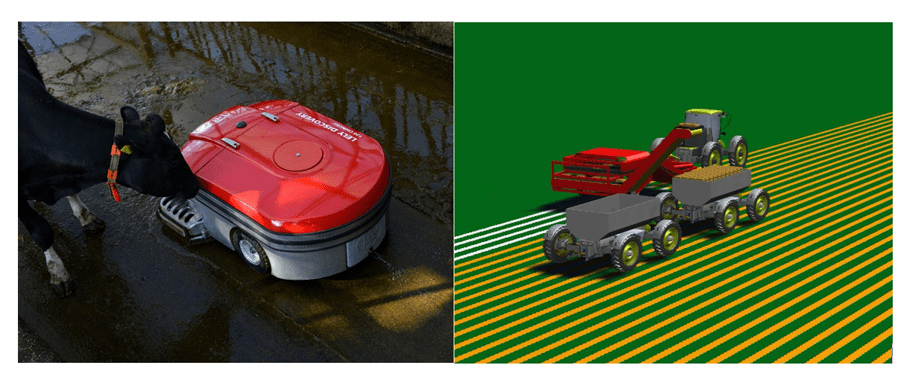 DurableCASE richt zich op een praktische demonstratie in twee voorbeeldtoepassingen: Samenwerkende stalrobots van Lely Industries en samenwerkende oogstafvoerrobots van H2Trac.
Het doel is om beide toepassingen op de Floriade in 2022 ( https://www.floriade.nl/ ) aan het publiek te tonen.
DurableCASE is een RAAK PRO project, gesteund door NWO SiA. Het heeft een looptijd van 4 jaar. Partners in DurableCASE zijn: Almende, Altramotive, Bosch Rexroth, Distribute, Erf, Fontys, Haagse Hogeschool, HAN, Holland Robotics, H2Consultancy, Lely Industries, LTO Noord, Maatschap Boon, Multi Tool Trac, RDW, Robovalley, Siemens, TNO, TU Delft, Track32, UT, Verum, VSE en WUR. Voor meer informatie: jan.benders@han.nl
Projectleider

Jan Benders MSc
Program Manager Control Systems –
HAN Automotive Research
Jan.Benders@han.nl
+31(0)6-12537646